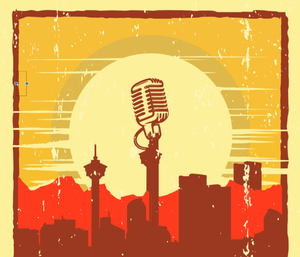 Jory Kinjo brings a unique history to his music and draws from his experiences playing and performing Soul, Ska, Reggae and Rhythm & Blues all over the world. Kinjo grew up in Calgary, AB. playing old-school soul music with long-standing soul band, Mocking Shadows. In 1999, he joined the band and warmed the stage for Canadian 3 tours with the B.B. King and other artists such as ZZ Top and Buddy Guy. In 2007, Kinjo toured Europe playing bass for Montreal's third-wave ska kings, the Planet Smashers. The Smashers toured with punk legends Bad Religion and headlined other European festivals. This experience ignited a love for ska & reggae and inspired a new direction in his music. Kinjo formed "JK & the Relays" in 2009 and has toured such acts as Fishbone (LA) and the English Beat (UK). JK & the Relays were breakout performers at the 2012 Montreal Ska Festival and the 2013 Victoria Ska Festival. In 2009, Kinjo also formed Kiai Music Inc. as an umbrella under which to operate. Kiai Music produced 3 tours for artists such as the Slackers (NYC), the Aggrolites (LA) and Chris Murray (LA), bringing some these bands to Alberta for the first time. Kiai Music produced many local shows and showcases for developing Calgary and Edmonton artists. In 2010 Kinjo formed a project with his brothers, Kaley Kinjo, Tashi Kinjo and Shaw Kinjo. The Kinjo Bros. were invited to perform in Okinawa, Japan at the Naha Matsuri Festival which was broadcast live on TV and Radio in southern Japan. The Bros. have since performed in Japan many times, Jory recently returned from Okinawa in the fall 2016 from a Kinjo Bros. performance at the World Uchinanchu Taikai festival. Kinjo has appeared with a wide array of artists from UB40 to South African jazz legend Hugh Masekela. Most recent shows of note would be with Ziggy Marley on his Canadian tours in both 2014 and 2016.
By the time Aaron Young was just 23 years old, he had already produced, arranged and performed on over 15 albums. It was clear that music wasn't going to be in his future, it was going to be his future. With eclectic influences ranging from Lenny Breau, Jim Croce, Chet Atkins, James Taylor, Danny Gatton, Bruce Cockburn, Randy Rhodes, Glenn Campbell, Eddie Van Halen, Muddy Waters, Pat Metheny, and countless more, Young went on to perform in the world-beat stage show Barrage for 5 years, touring Asia, Scandanavia, the UK, Canada and the US.
You may have even seen the odd glimpse of his work on PBS, CBC, MTV, Bravo and the BBC. In the last 30 years Young has produced and/or played on over 180 albums and played on over 7500 live stage performances spanning across the globe.
Over the years he has continued to hone and shape his brilliant guitar skills and prolific song writing, evolving into the well-known and well-respected artist that he is today. To date he has lent his skills as Producer and Guitarist to such groups as Barrage( The World on Stage), Sillan & Young, The Polyjesters, Simon Fisk, John Wort Hannam, , Tyler Hornby, Brent Tyler, The Mocking Shadows, Jory Kinjo, Sykamore, Susan Aglkark, KellyLee Evans, Amy Bishop, Blake Reid Band, No Roads In documentary, The Blackbelts and Ghostboy. Aaron's latest solo endeavor brings together his true prowess as a world class guitarist and singer songwriter. In the spirit of a true entertainer, Young's solo show inspires flavors of Tommy Emmanuel's guitar genius and throw backs to the singer songwriter greats of the 60's, 70's, 80's all the way to present day. His live show is truly next level entertainment.